This Funky Tybee Island Institution Provides Sunset Views and Fresh Seafood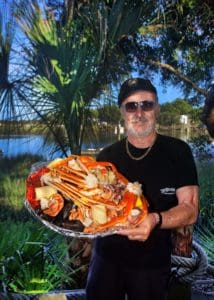 Tucked away behind a residential neighborhood at Tybee Island's entrance is one of my favorite haunts, a tropical trip to a restaurant where you come as you are and leave stuffed full of fresh seafood! For decades, the Crab Shack at Chimney Creek has been a Tybee Island and Savannah institution, "where the elite eat in their bare feet," as they say, and they never go home hungry.
The Crab Shack had humble beginnings as the Chimney Creek Fishing Camp, a small village of cottages, a communal restroom building and a bait shop and marina. Locals Jack and Belinda Flanigan bought the camp in 1983 and began running charter fishing tours from the marina and hosting gatherings of friends on the ample deck and screened porch space; before they knew it, they had a business license and a menu painted onto a four-by-eight sheet of plywood hung on the wall. Since then, The Crab Shack has been a casual waterfront dining institution and rite of passage for Low Country visitors and locals alike.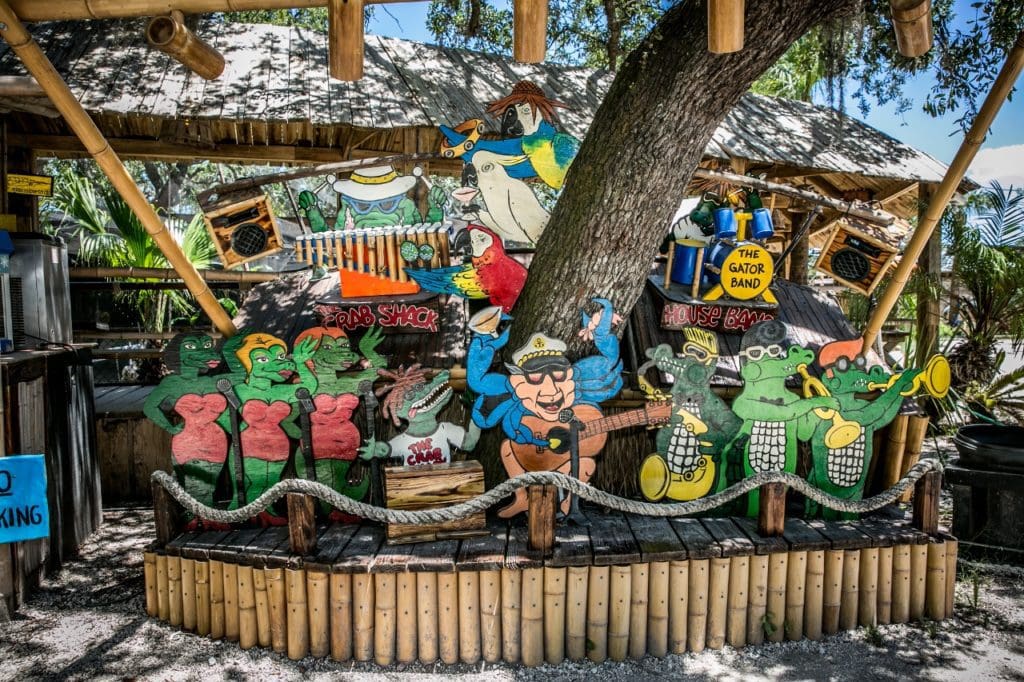 You could describe the restaurant's style as "intentionally rustic," with upturned crab baskets acting as chandelier shades and all manner of brightly colored flotsam making each corner feel welcoming, and the only things that will divert your attention from the decor are the beautiful marsh side view and the incredible no-frills seafood. Crab legs are their specialty, obviously, with deviled crab, snow crab and Alaskan king crab available year-round, but you won't want to miss out on the Low Country boil, a staple dish of the marshy communities stretching from South Carolina down to the coast of North Florida. A Low Country boil includes peel-and-eat shrimp, smoked sausage, corn and potatoes–and the Captain's Sampler adds crawfish, mussels and crab legs–all perfectly seasoned as they cook with the Captain's Secret Spice (also available in the gift shop!). Brunswick stew, clam chowder, slow-cooked ribs, peel-and-eat shrimp-by-the-pound and an exclusive, custom flavor ice cream provided by Savannah's own Leopold's Ice Cream balance out the menu, but there's plenty more to explore for every taste!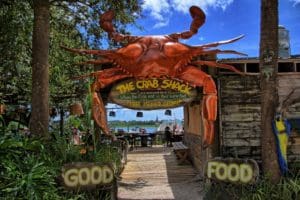 The Crab Shack isn't only one of the best meals you'll ever have, it's truly a Savannah and Tybee experience, a place you and your family will never forget paying a visit to–including the family dog, because The Crab Shack is one of the few restaurants offering heated outdoor and pet-friendly dining spaces. From the sweeping view to the resident cats and alligator pen and quirky decor, the Crab Shack experience is one you'll be glad you had!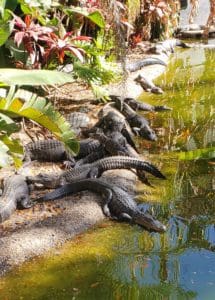 The Crab Shack at Chimney Creek is located at 40 Estill Hammock Road on Tybee Island. You may feel like you've turned down the wrong street, but keep going until you get to the end! For more information, call (912) 786-9857. Learn more about the restaurant and view the full menu at TheCrabShack.com. 
Local Hint: Celebrate your birthday at The Crab Shack and ask for a crab hat!!!
Enjoy Savannah and tell them your TRAVELHOST sent you!