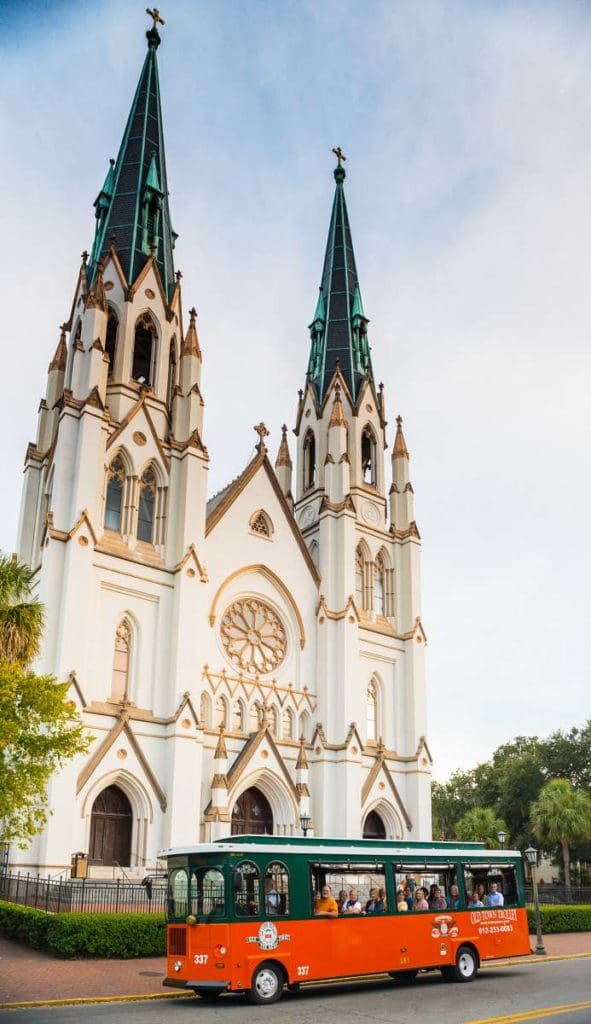 I always advise first-time Savannah visitors to acquaint themselves with the city with an overview tour, and this one is one of the best. All through downtown Savannah's National Landmark Historic District, Old Town Trolley's cheerful orange and green trolleys are packed with first-timers and returning visitors who can't get enough of Savannah's beautiful moss-draped squares and wrought-iron balconies. Old Town Trolley has been operating in Savannah for more than 25 years, treating guests to an authentic exploration of the history, lore and legends all over Georgia's oldest city. During the day, guests can take the popular step-on-step-off trolley tour with 15 stops and a 90-minute duration, providing the chance to orient themselves to James Oglethorpe's ingenious grid design and get an overview of the city's highlights with ease. With trolleys coming by each stop every 20 minutes, you won't have to wait long for your ride to the next exciting location! This all-day tour ticket shows off the best of Savannah's Colonial, Historic and Victorian Districts plus bustling and beautiful River Street, all while experts entertain with anecdotes and well-researched history.
Do you scare easily? In the evening, the Ghosts & Gravestones tour winds under tree-canopied streets and through cobblestone alleyways to show riders some of "America's most haunted city's" eeriest and most frightening stories and legends. The one-hour-and-fifteen-minute tour grants exclusive nighttime access to the Andrew Low House and Perkins and Sons Chandlery, two of the town's most haunted locations, and tells tales of ancient cemeteries, antebellum mansions, and some of the bloodiest battlegrounds from American history. On this reservations-required tour, your Ghost Host will provide expert storytelling of all of Savannah's shadowy and sinister past, returning you to your lodgings with new knowledge of one of the oldest and most beautiful cities in the South, and perhaps the creeping sensation that you may not be alone in your room after all.
Old Town Trolley Tours of Savannah is located at 234 ML King Jr. Blvd. For more information, to purchase tickets, or to make reservations for the Ghosts & Gravestones tour, please call 912-226-6746. Learn more about touring options and discounts at TrolleyTours.com/Savannah.