Mr. Ho's Orchestrotica – Tybee Post Theater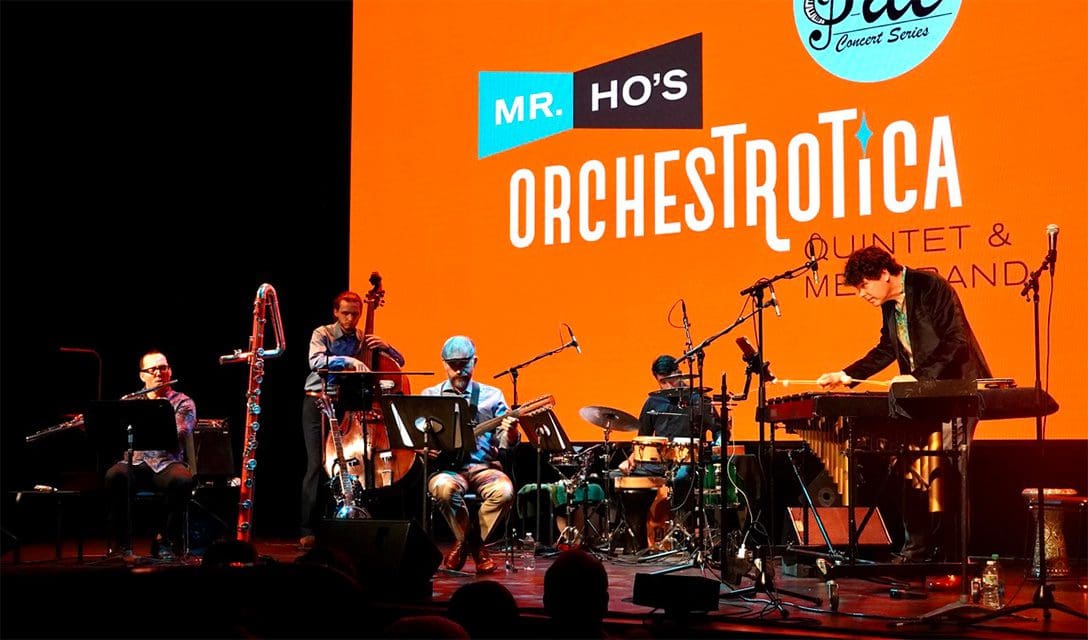 In the same way a chef de cuisine runs a kitchen, percussionist Brian O'Neill leads a team of five musical creators who deftly collaborate on instruments foreign and domestic to form modernist delicacies for hungry, curious listeners. From the high arts of jazz and chamber music to adaptations of mid-century exotica and pop art, the quintet version of Mr. Ho's Orchestrotica renders O'Neill's original compositions and curious arrangements of Bach, Gershwin, Shostakovich and John Adams into cinematic, layered music for armchair travelers ready to journey off road.
While the quintet eschews most of the musical forms, rhythms, and styles of the 1950s exotica sound that inspired O'Neill, it fully embraces the unique genre's love of escapism, whether through deliberate, out-of-context use of global sounds or through jazz improvisation that doesn't swing and deliberately imitates the rhythm of a skipping record. On the listener's plate might be equal parts scratch and sniff, bongos with a fugue, and a cat fight at a piano recital. On the stage, the ensemble skillfully negotiates detailed compositions and arrangements of classical works while relying on listening and instinct to drive passionate improvisation.
"If John Zorn is an exotica Picasso, O'Neill is his Georges-Braque counterpart in cubism's transposition to music." —AllAboutJazz
"No other band on the planet sounds anything remotely like Mr. Ho's Orchestrotica."
—Lucid Culture
VIP TICKET INCLUDES:
• Choice of Seat Location
• 2 Drink Tickets
• Free Merch
• Early Entry
• Meet & Greet w/ Band (subject to availability)