An oasis in Savannah's Starland District serving Tiki classics and modern signature cocktails.
Step through the lush flora wall, leaving mundane worries behind. Located in Savannah's bustling, ballyhooed arts neighborhood the Starland District, Water Witch is a unique escape from reality—transporting patrons to an exotic respite. Water Witch features remarkable classic and contemporary exotic cocktails made with fresh juices, craft spirits and house-made syrups/shrubs/tinctures. Their warm and hospitable staff will ensure your experience is unforgettable. Whether it is for a function, special event, night out with friends or date night, retreat to this little piece of paradise at Water Witch.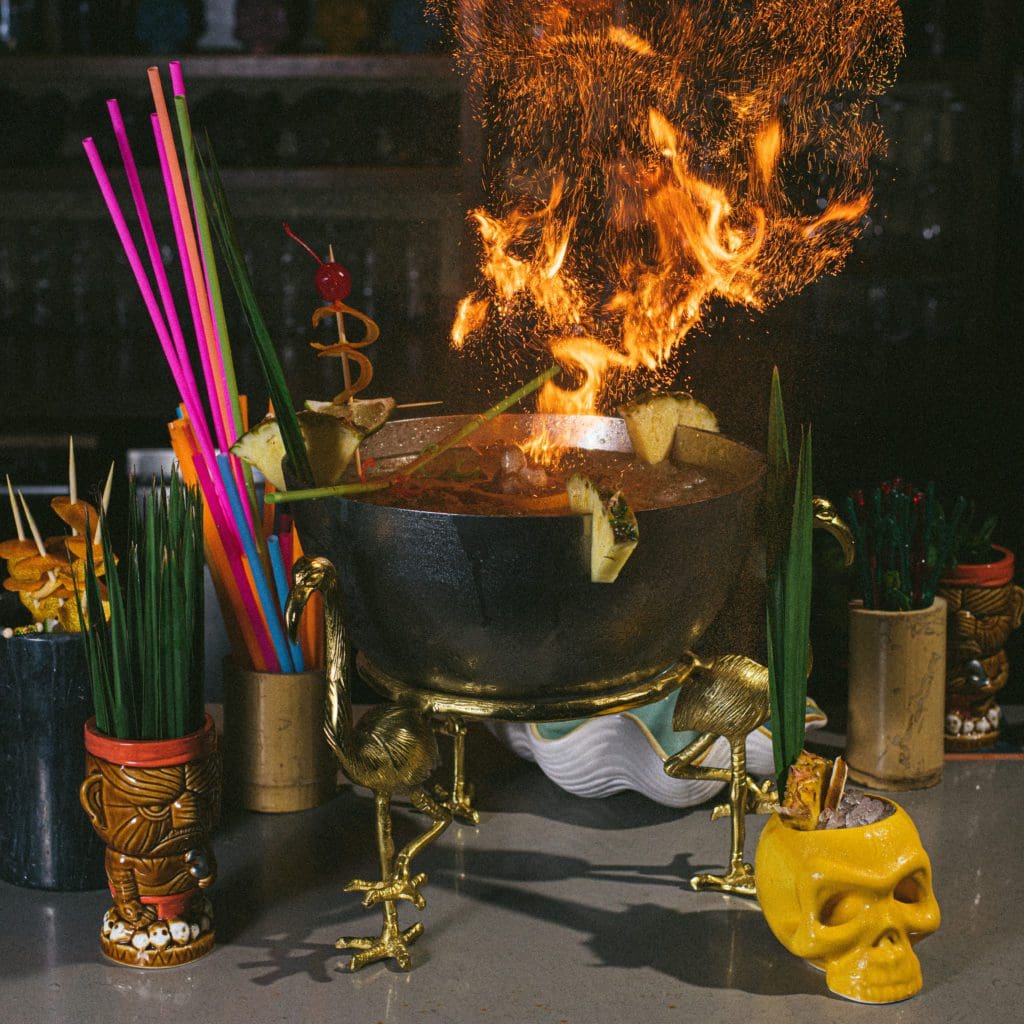 This super cool and comfortable spot gets its name from a captured Union ship scuttled by Confederate forces off the coast of Savannah in 1864 to prevent its return to the North, but no one was sad to see it go, as seaman lore held that the ship had always been cursed. It had been captured off the Ossabaw Sound earlier that summer and with it came its whispered tales of misfortune and frequent appearances of sailor superstitions indicating disaster. It's because of this mysterious and exciting history that staff invites you to "come aboard" the Water Witch and "get sunk" by their menu of crafted tropical cocktails. I'm a fan of the Ruby's Jewel!
Owner Brigitte Harley moved to Savannah from New York City in 2010. Brigitte's career as an attorney and finance executive left her wanting a creative outlet, which led to the opening of Water Witch in 2020. Thinking about a business that would fit in well with the Savannah culture and with her personal interests, a modern tiki bar fit the bill. The Starland District is edgy and filled with creativity which makes it the perfect home for Water Witch.
Check out their service industry nights every Tuesday, Women in Business networking events monthly, First Friday events with other local businesses in the Starland District, pop-up events each month, Happy Hour and ever-changing drink specials. On the horizon, they will be introducing a new cocktail menu, carefully crafted by the renowned Kyle Law, as well as celebrating their two-year anniversary.
2220 Bull Street, Starland District. 912.201.3164 waterwitchtiki.com
Mon-Thurs 5pm-12am; Fri 5pm-2am; Sat 11am-2am; Sun Closed
Enjoy Savannah, and tell them your TRAVELHOST sent you!