Coastal Georgia Botanical Gardens at the Historic Bamboo Farm
2 Canebrake Road Savannah, GA 31419
coastalbg.uga.edu
Open: Tuesday – Saturday at 10 a.m. to 4 p.m. and Sunday at 12 – 4 p.m.
Admission: $5 per adult; $3 per youth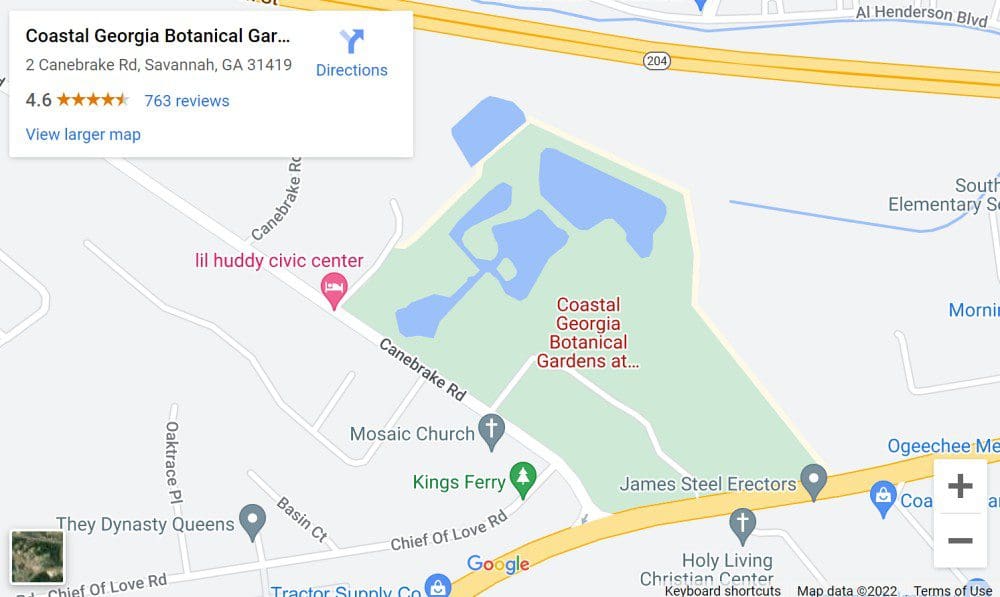 Located 15 minutes from downtown Savannah, the Coastal Georgia Botanical Gardens is a destination worth the drive. More than 100 years ago, Barbour Lathrop purchased the bamboo grove for $5,000. It was used as Savannah's first and only Plant Introduction Station to grow and evaluate plants from around the world. Many specimen plants and trees still remain in the garden for students to study and visitors to discover. The USDA closed the station in 1979. The property was deeded to the University of Georgia's College of Agriculture & Environmental Science in 1984, and later changed its name to the Coastal Georgia Botanical Gardens.
Still known to locals as "The Bamboo Farm," the 50-acres of land has more than 30 features for guests to enjoy.
Andrews Visitor & Education Center
Formal Garden
White Garden
Sun Garden
Woodland Shade Garden
Water Garden
Lakeside Pavilion
Rain Garden
Fruit Demonstration Garden
Georgia Trustees Garden
Crape Myrtle Allee
Garden for All Abilities
The Frank Williams Classroom
National Champion Lord's Holly Tree
Pollinator Garden
Conference Center
Xeriscape Garden
Mediterranean Garden
Bridal Cottage
Superintendent's Cottage and Cottage Garden
Old Packing Shed
Orchid House, Lath House, and Cold Frame
Rivers of Iris
Bamboo Maze and Tower
Judge Arthur Solomon Camellia Trail
Tea Garden
Palmetto Court
Historic Japanese Timber Bamboo Grove
Cold Hardy Palm Collection
Native Plant Trail
Teaching Garden
Barbour Lathrop Bamboo Collection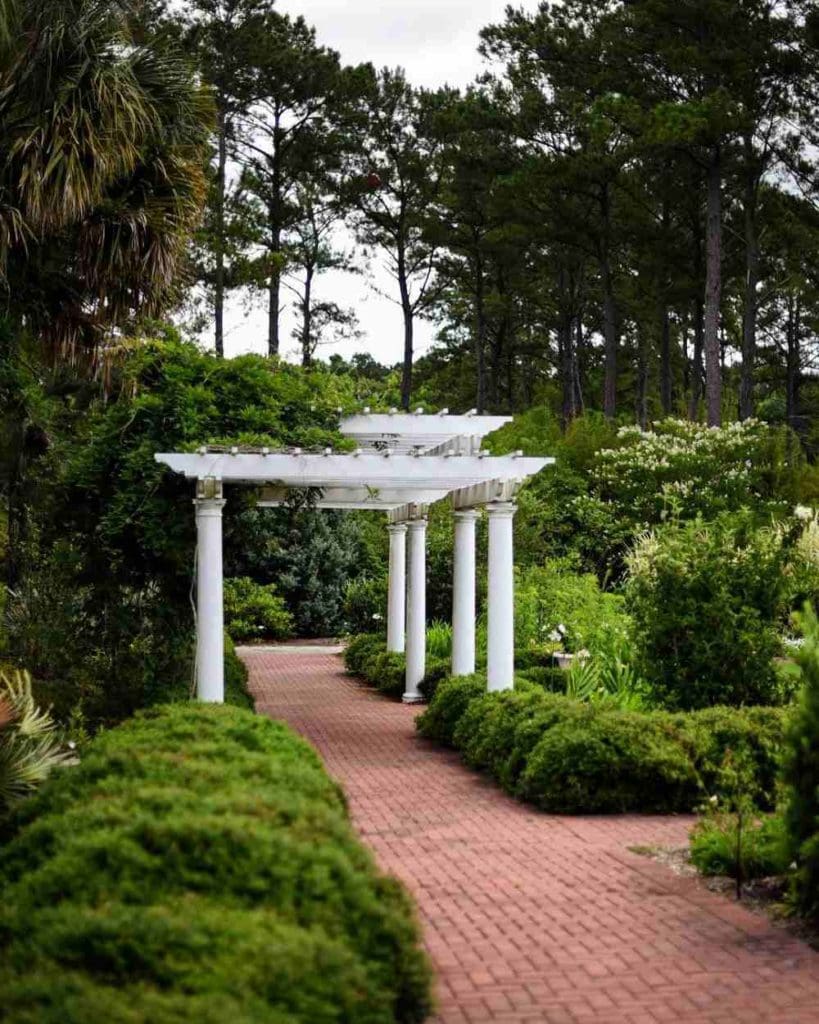 Walk through the gardens: Explore the many gorgeous blooms and plant life that are available at this historic 50-acre garden. Take in the beauty of the Camelia Trail, Rose Garden. Bamboo Collection, Daylily Collection, and the Orchid Greenhouse.
Participate in educational programs: The property is managed by the University of Georgia Cooperative Extension Service. Throughout the year, educational programs and other special events are held at the Coastal Georgia Botanical Garden. You can volunteer in the Georgia Master Gardener Extension program, complete a beekeeping course or attend events such as the annual Spring Fling in April and Holiday Lights Show in December.
Enjoy the natural setting: Surrounded by nature, the garden area is the perfect place to move your body or slow down. After exploring the grounds, find your favorite spot to do yoga, read a book, have a picnic or whatever brings you the most joy.
Snap a picture: Photography is welcomed for non-commercial purposes so don't hesitate to take out your camera to capture some great shots in the beautiful garden.
Host your next event: The Coastal Georgia Botanical Garden has several indoor and outdoor options to host your next event. You can rent the Andrews Visitor & Educational Center, Frank Williams Classroom, Bridal Cottage, Carolyn W. Bryan Lakeside Pavilion, Bethel Burton Conference Center, gardens and gazebos for your event.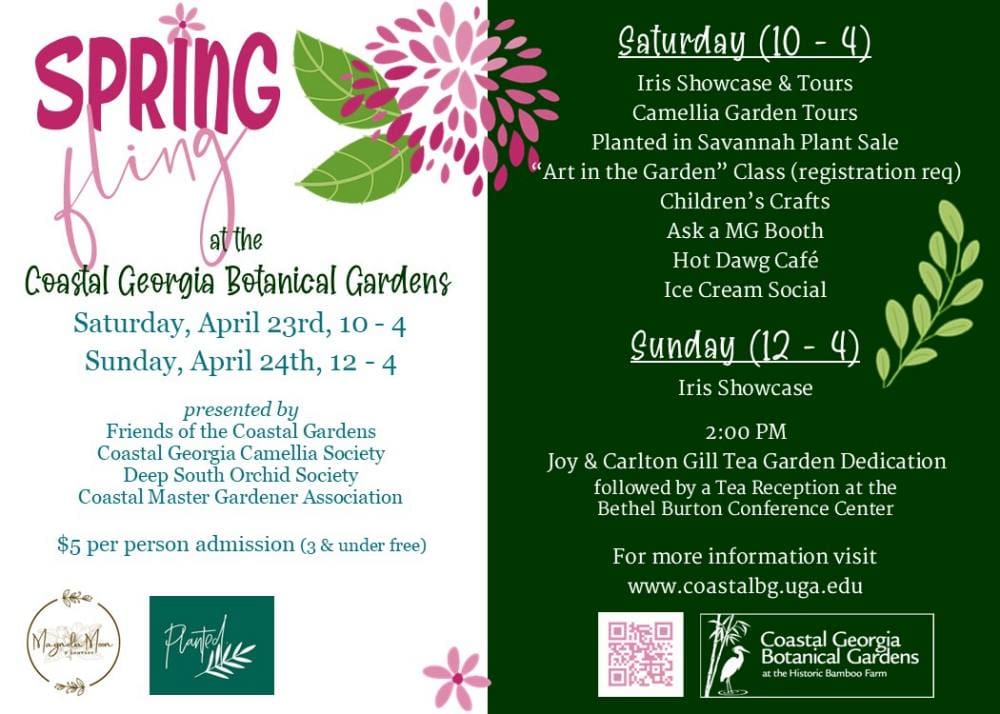 Go ahead and make plans to enjoy the Coastal Georgia Botanical Gardens, and tell them your Travelhost sent you!