Everyone's Family, especially on St. Patrick's Day
McDonough's Restaurant & Lounge opened in 1987 by Savannah businessman Billy Lee; 36 years later it's still a family business, owned and operated by three of Lee's children. The lounge is a Savannah institution, a neighborhood bar, sure, but it's more than that, it is an integral part of Savannah's nightlife, community, and the subject of a good local story. Many a good night has started and ended at McDonough's.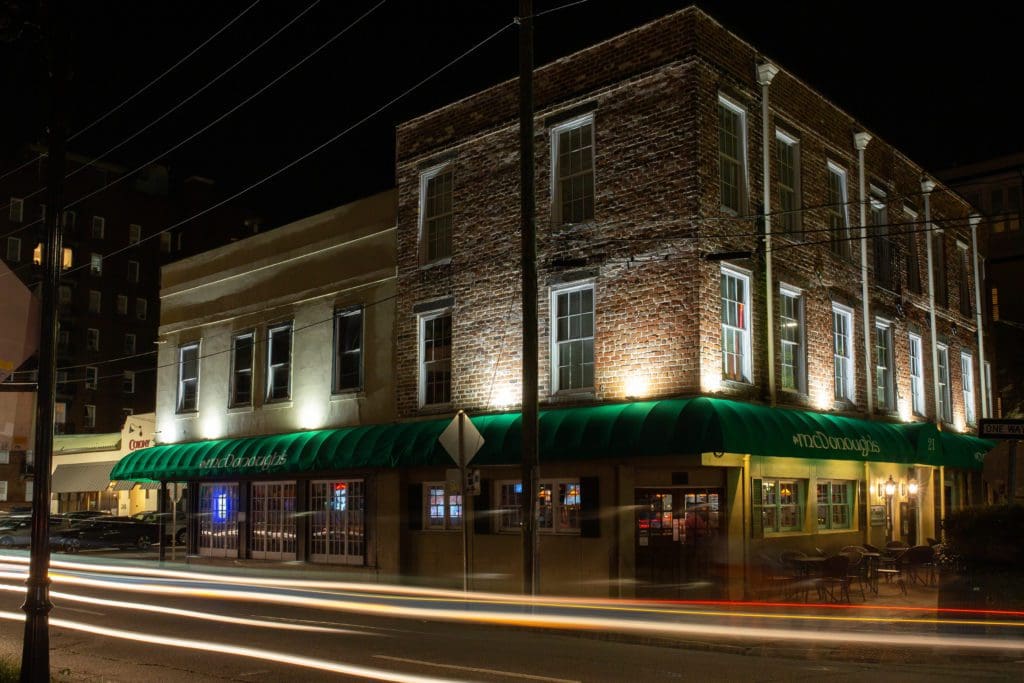 Because of its prime location, not on but close to the parade route, McDonough's has become the unofficial headquarters and a destination for St. Patrick's Day revelers. Make no mistake: St. Patrick's Day in Savannah is legendary. A cornerstone annual event not just for the festivities but because of Savannah's deep historic ties to Ireland, so it's no surprise that along with its cornerstone festival Savannah's signature Irish pub is a cornerstone itself. On event day, McDonough's opens at 7am for "Kegs and Eggs," and kicks off festivities early with New York's Rockland County Firefighters Pipe & Drums Corps, one of many groups of first responders and Irish heritage groups that travel to walk in our warmer and sunnier parade. McDonough's is a proud sponsor of the Savannah Irish Festival, the Celtic Heritage Festival, and will play host to the Savannah Shamrocks, Savannah's rugby club, and will host them during the annual rugby tournament, March 11-12.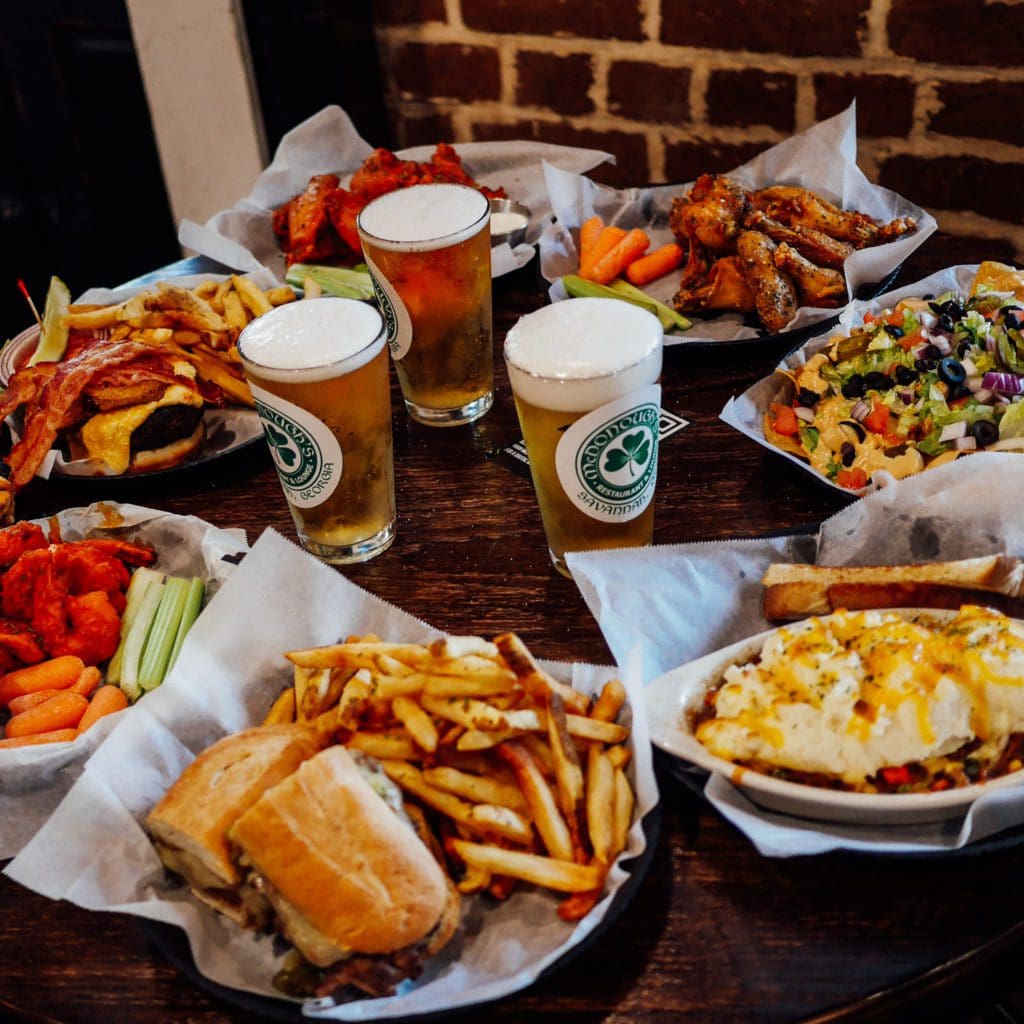 All year round, McDonough's is open daily from 10 am into the wee hours and serves three meals a day plus late night. Until 2 am, you can order from the robust menu of classics like Fried Mushrooms, Mozzarella Sticks and Buffalo Wings, plus McDonough's famous Irish Egg Rolls with corned beef, sauerkraut and Swiss cheese wrapped in a wonton wrapper and deep fried. Irish pub fare like a best-in-town Reuben is on the menu, but an array of impressive burgers, steaks, salads and more means you get a lot more than "bar food" when you belly up to McDonough's for a pint and a plate. Particular standouts include the Farmhouse Burger with bacon, gouda, avocado, a fried egg and bacon jam; and the "Gyreuben," a hybrid sandwich piled high with gyro meat, sauerkraut, Swiss, and thousand island dressing on marbled rye. Of course, you can't go wrong with an Irish pub staple like Shepherd's Pie, served with toast and a side salad to make sure you leave extra full. Lunch specials are served Monday- Friday from 11am-3pm, serving everything from Southern fried chicken, steak sandwiches, crab cakes or blackened salmon.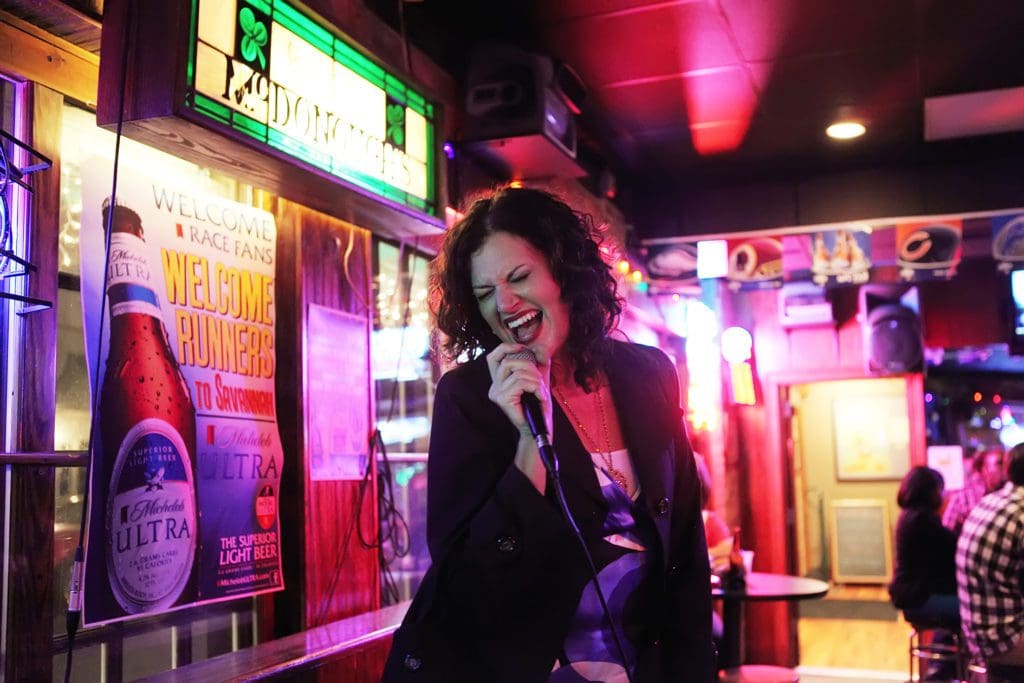 Starting as early as 2pm Monday-Friday, McDonough's offers the longest Happy Hour, enjoyed until 6pm, with half-price appetizers, and the best priced drinks in Savannah. Show up after 9 between Thursday and Sunday and you're liable to see a celebrity enjoying McDonough's "Best of Savannah"-winning karaoke–folks have been known to have seen Clint Eastwood, Miles Teller, Gerard Butler, Ben Affleck and even Stan Lee have been spotted with a mic in their hand at McDonough's (but you didn't hear it from me). On other nights there is live music, poker, or trivia, or you can catch a game on one of more than 30 TVs plus a giant projection screen for big game nights. One thing's for sure, whatever you're looking for: a bite, a drink, old friends, or new ones, you will never leave McDonough's disappointed.
McDonough's Restaurant & Lounge
21 E McDonough Street
(912) 233-6136
www.McDonoughsLounge.com
Enjoy Savannah and tell them your TRAVELHOST sent you!