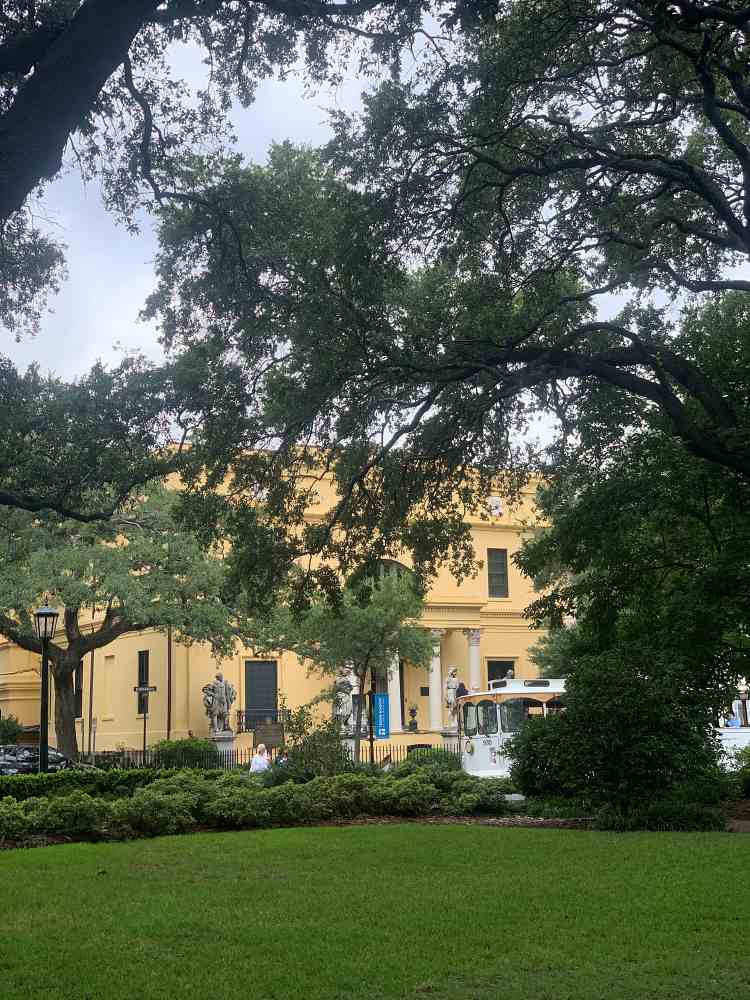 Historic Savannah has an abundance of unique things to do and places to see. As a city known by urban planners, historians and travelers for its iconic squares, one of the things you should add to your list is exploring the Savannah Squares. These parks and public gathering places were built starting in the 1730s. Now, the squares create the perfect connectors around neighborhoods, shops, eateries and more in downtown Savannah.
General James Ogelthorpe, the founder of Savannah, GA, came up with the plan to create squares. He wanted the city to be built upon a grid design. This grid design has been called, "The most intelligent grid in America, perhaps the world," by Architect John Masengale. Originally the squares were created for practice and drills for the militia, which is why the original urban plan resembles a military camp. But the urban plan was also made for civilian life too. Having clean, green places in public were seen as a privilege only for the wealthy. The early settlers wanted their city to be an egalitarian society so they created squares for the commoners to be used for markets, neighborhood kitchens and leisure. Each square is the center of the neighborhood. The surrounding blocks (called wards) were divided for two uses; four wards for residential and four wards dedicated for commercial use. The squares would also help people navigate around town. There were originally 24 squares, but only 22 remain.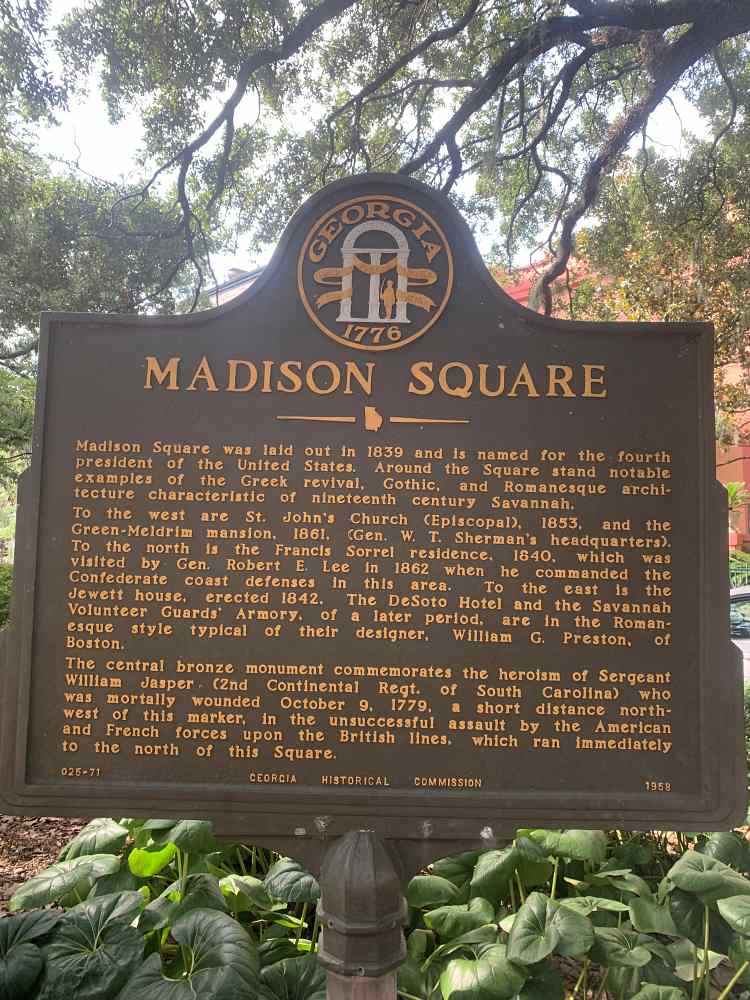 Franklin Square at Bryan and Barnard streets near Savannah City Market
Ellis Square at the intersection of Bryan and Barnard streets next to Savannah City Market
Johnson Square at Bull and St. Julian streets centered around Savannah City Hall and Christ Episcopal Church
Reynolds Square at Abercorn and St. Julian streets
Warren Square at Habersham and St. Julian streets
Washington Square at Houston and St. Julian streets
Liberty Square originally located on Montgomery between State and York streets but lost to urban sprawl
Telfair Square at Barnard and President streets
Wright Square at Bull and President streets
Oglethorpe Square at Abercorn and President streets
Columbia Square at Habersham and President streets*
Greene Square located at Houston and President streets
Elbert Square orginally located at Houston and McDonough streets but lost to development
Orleans Square at Barnard and McDonough streets
Chippewa Square at Bull and McDonough streets*
Crawford Square at E. Hull and Houston streets
Pulaski Square at Barnard and Macon streets*
Madison Square at Bull and Macon streets*
Lafayette Square at Abercorn and Macon streets
Troup Square at Habersham and McDonough streets
Chatham Square at Barnard and Wayne streets
Monterey Square at Bull and Wayne streets*
Calhoun Square at Abercorn and Wayne streets, which is only two blocks north of Forsyth Park!
Whitefield Square at Habersham and Wayne streets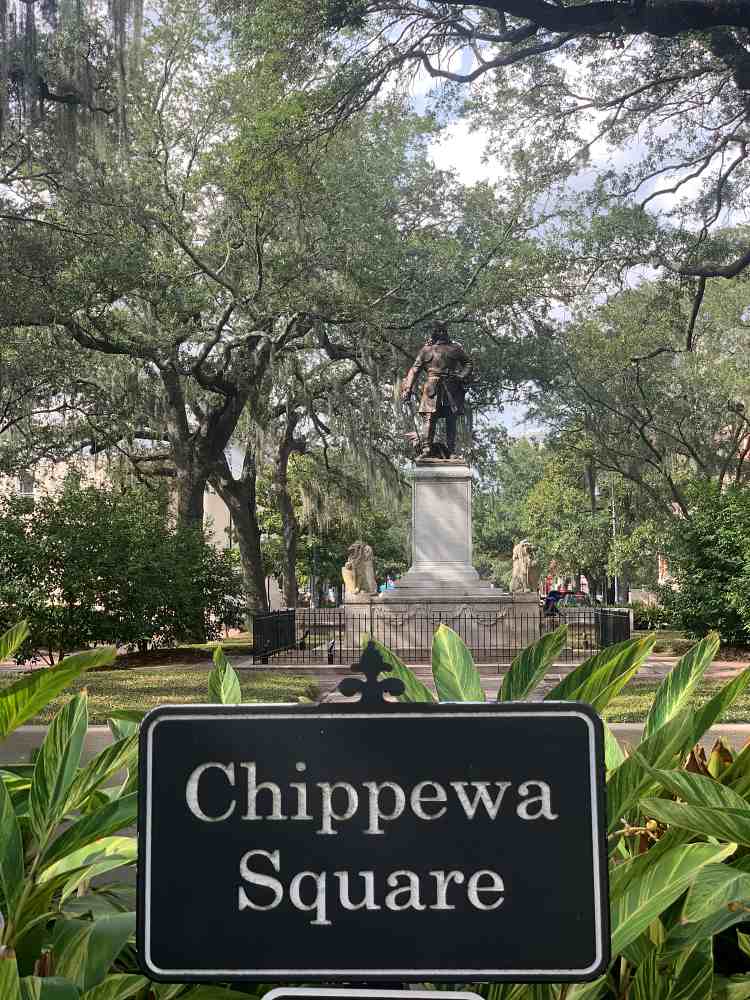 Locals continue to use the squares the way Ogelthorpe intended to live and gather. Tourists and locals use the squares to relax, meet and host events like weddings, birthday parties and concerts. Savannah's famous annual St. Patrick's Parade is held in the squares also. The historic Savannah Squares are even listed as a contributing factor to the city's walkability score of 90, according to Walkscore.com. The squares ease the traffic and provide safe transportation for cyclists and pedestrians so you can explore them easily and safely.
You may not be able to visit all of the squares while you are vacationing in Savannah so I'm going to share my favorite squares as a good starting point. My favorite walk in Savannah is Bull Street, starting at City Hall and continuing to Forsyth Park. Chippewa, Madison, Monterey, Lafayette, Columbia and Pulaski squares and the places in between have so many gems to enjoy.
Chippewa Square is famous for its appearance in the Forrest Gump movie. However, there are more things to love! Be sure to get tickets to a show at Savannah Theatre. Or, visit Six Pence Pub for an authentic English pub experience and shopping at Red Clover, Satchel. or Saints & Shamrocks.
Madison Square is perfect for those who love the arts, coffee shops and cafes. E.Shaver, Bookseller, ShopSCAD, SCAD Story, Gryphon and the Art's Cafe are all unique to Savannah and unique all around.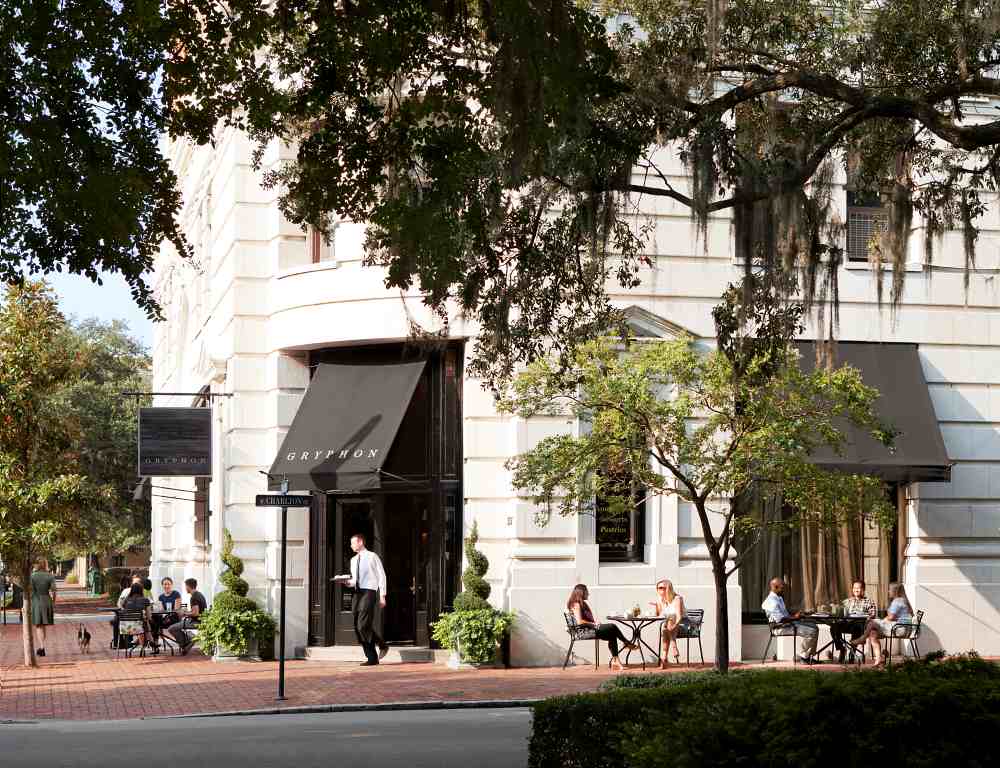 Monterey Square is surrounded by beautiful residential homes and the historic Mercer-Williams House. You can tour this home to view Renaissance Revival architecture, artwork and antiques dating back to the 18th Century. Mickve Israel, one of the oldest Jewish congregations in America has been named "one of the 15 Most Beautiful Synagogues in the World." They are open for worship services and for tours.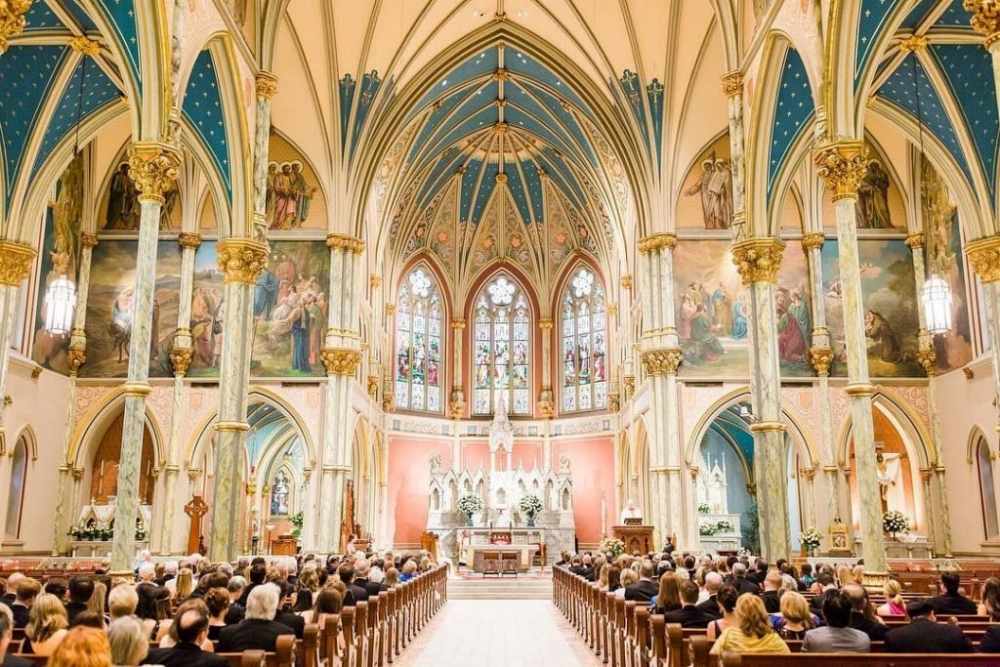 Lafayette Square is home to the Andrew Low House Museum and one of the most photographed places in Savannah, The Cathedral Basilica of St. John the Baptist. Even if you don't have time to go inside, at least stop by and take in the beauty of this glorious work of art of the Cathedral.
Columbia Square is quiet yet still offers places to stay, eat, and learn. The Kehoe House is a Renaissance Revival mansion perfect for a romantic stay in Savannah. The 17Hundred90 Inn and Restaurant is an upscale place to stay, eat or enjoy the bar (it's where you find the locals at 5pm!) The Davenport House Museum is a preserved American Federal-style house where the life of free and enslaved people are interpreted to explain life in Savannah.
Pulaski Square is off the beaten path but it's a relaxing square to sit, think or eat lunch.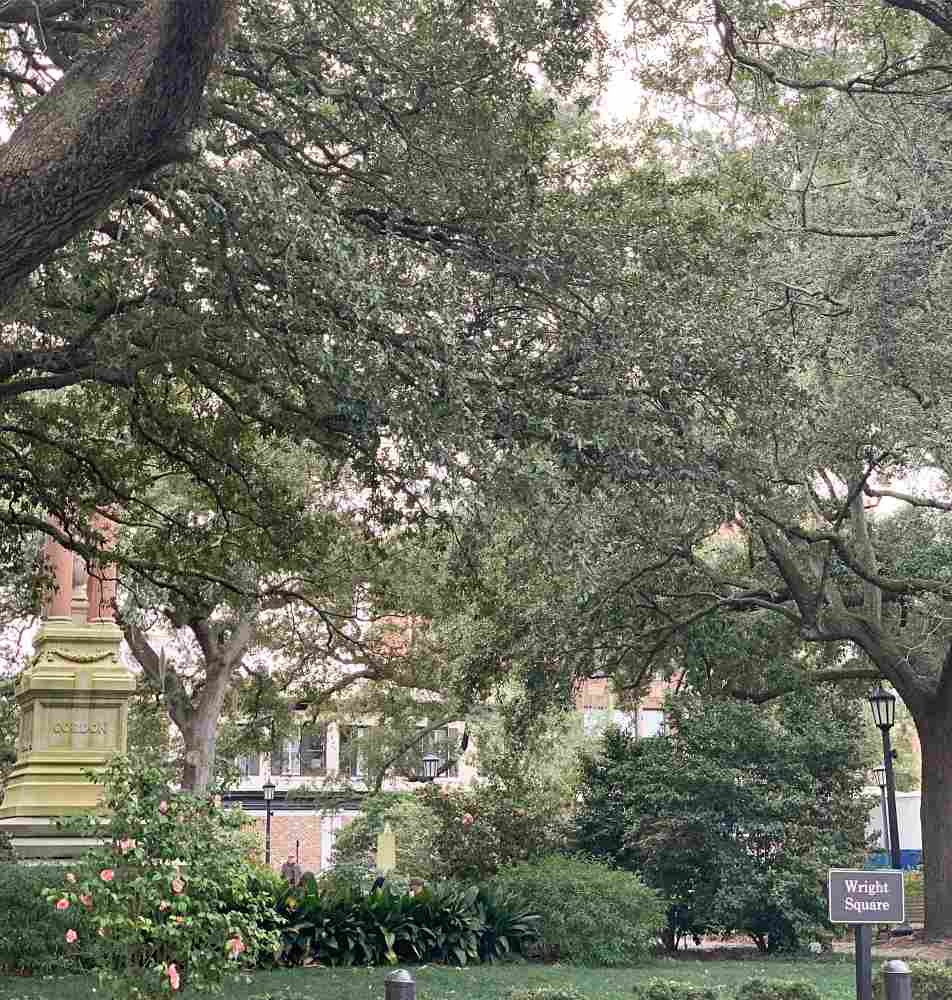 Of course, you can't visit Savannah without a walk through Forsyth Park. Be sure to take a photo in front of the iconic fountain and enjoy a meal at the cafe. Depending on when you visit, you may be able to attend an event or the Forsyth Farmers Market.
I love all of these places and I know you will too. You can start by visiting my favorite squares then come back to see more! Be sure to tag @EnjoySavannah so we can see what you discover.