Tybee Post Theater – Katica Illenyi
October 6, 2022 @ 8:00 pm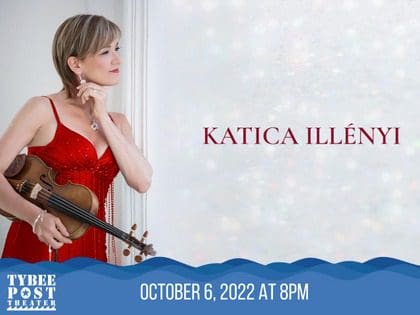 Katica Illényi is a Hungarian violinist, singer, dancer and Theremin player. She has classical training, and plays in several musical genres including folk music, klezmer and Manouche jazz.
Illényi comes from a musical family. She was raised in Budapest, Hungary and began learning the violin with her father, Ferenc Illényi, who played in the orchestra of the Hungarian State Opera. Her older brother (also Ferenc) is a violinist with the Houston Symphony, her younger brother Csaba is a violin graduate of the Vienna Academy of Music, and her sister Aniko is a cellist with the Stadtorchester Winterthur in Switzerland.
Illenyi attended the Franz Liszt Academy of Music in Budapest, after which she broadened her repertoire to include classical, jazz, and world music. In 2002 Illenyi embarked on a solo stage career performing concerts containing eclectic programs of classical, jazz, and movie soundtrack themes. Illenyi has received international accolades, performing at concerts organized in cooperation with the Embassies of Hungary in several countries.