The Costumed Figure in Oil with Melinda Borysevicz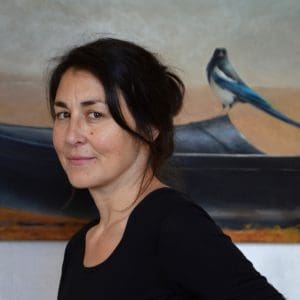 What a person wears tells a story. From the choice of specific attire, colors, accessories, and fabrics to the way in which someone inhabits their clothes (comfortably, stiffly, self-consciously …), we find clues that chronicle the nature of the person in front of us, both on the superficial societal level and on the deeper psychological level. In this workshop, we'll be working on one long pose with an elegantly dressed model (with a twist!) to find/create their story.
We'll begin the workshop with some thumbnail sketches of our model, using a viewfinder to help find the perfect composition for our paintings. Once your individual composition is decided, you'll begin a monotone block-in. At this stage there will be an emphasis on the use of value shapes and relationships to find accurate proportions as well as to give life to the overall form of our model. You'll continue our work with a full-color palette for the rest of the workshop; exploring how to describe the luminosity of living flesh and the sumptuousness of the fabrics our model is wearing by using warm-cool color relationships and a combination of opaque and transparent passages. Instruction will include class demonstrations and individual hands-on guidance.
Although this workshop is designed for those with some painting experience who are looking to augment their existing skills, all levels are welcome.
10am-1pm and 2pm-5pm each day
Members $360 | Non-members $385