Revolutionary Perspectives Lecture Series – Conservation of Revolutionary War Artifacts from the Cannon Cluster Site
September 27, 2022 @ 7:00 pm

-

8:00 pm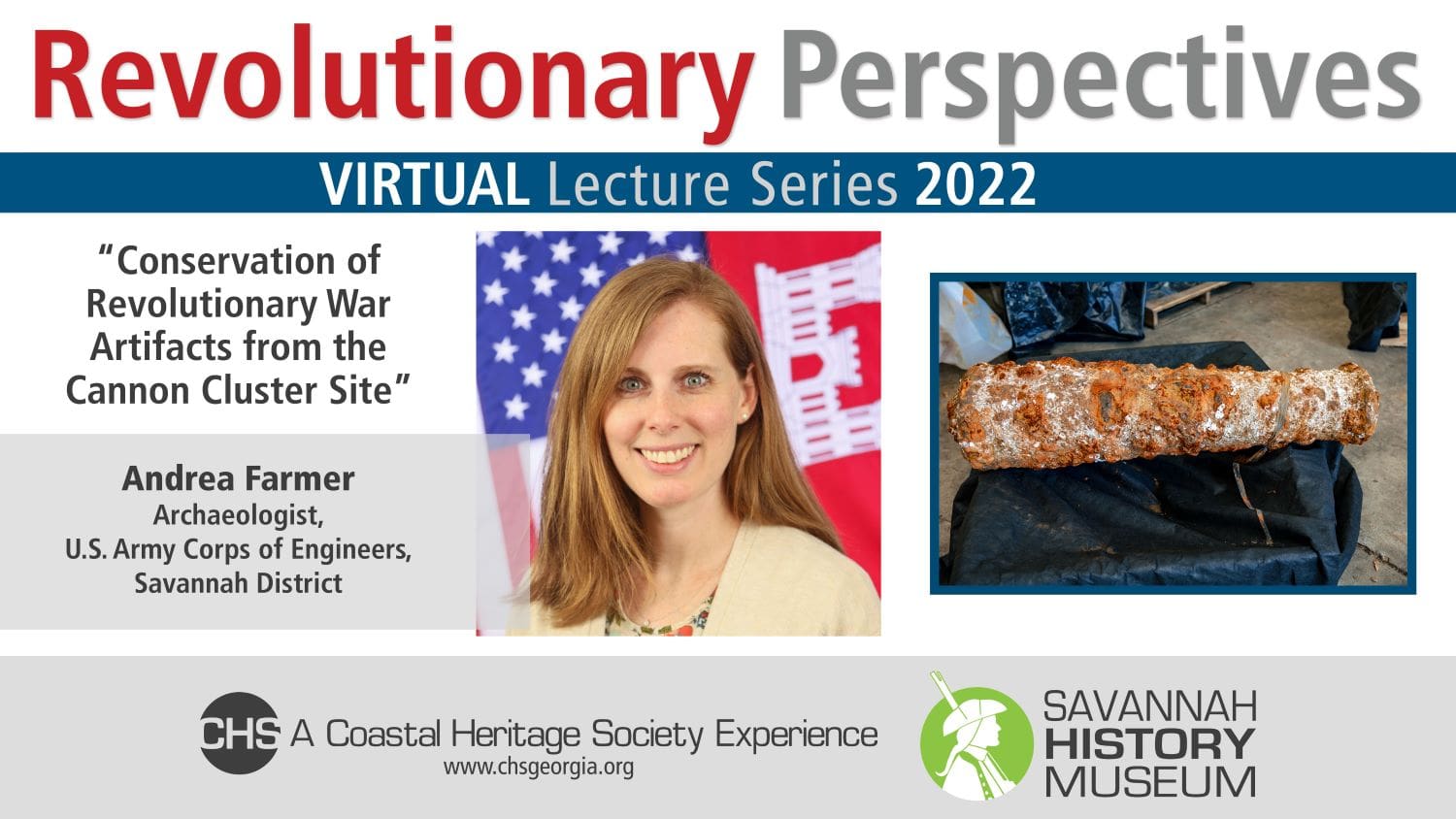 Coastal Heritage Society invites the public to virtually attend this year's Revolutionary Perspectives Lecture Series on Sept. 20th, Sept. 27th, and Oct. 4th. The annual free event series will focus on a wide variety of topics unique to the history of Savannah. Lectures will be hosted on Facebook Live on the Coastal Heritage Society Facebook page. Each lecture will be from 7-7:45 pm with a 15-minute question and answer session ending at 8 pm.
"The most exciting thing for me about history is the element of discovery, and for this year's Revolutionary Perspectives Series, we are focusing on that process of discovery!" says Emily Beck, Director of Interpretation at Coastal Heritage Society, and this year's facilitator.  "Historian and filmmaker Michael Jordan will present his best-selling book, Savannah Square by Square, highlighting the hidden histories of Savannah's beautiful squares. US Army Corps of Engineers Archaeologist Andrea Farmer will outline the process of finding Revolutionary War-era cannon in the Savannah River in the fall of 2021, and let us know a bit more about what is in store for this historic find. We are also thrilled to welcome back Dr. Howard Keeley of Georgia Southern University's Center for Irish Research and Teaching, will speak about new research that he and his students conducted in Ireland over the summer, shedding new light on Irish immigration in Savannah's historic Frogtown community and its surrounding neighborhoods."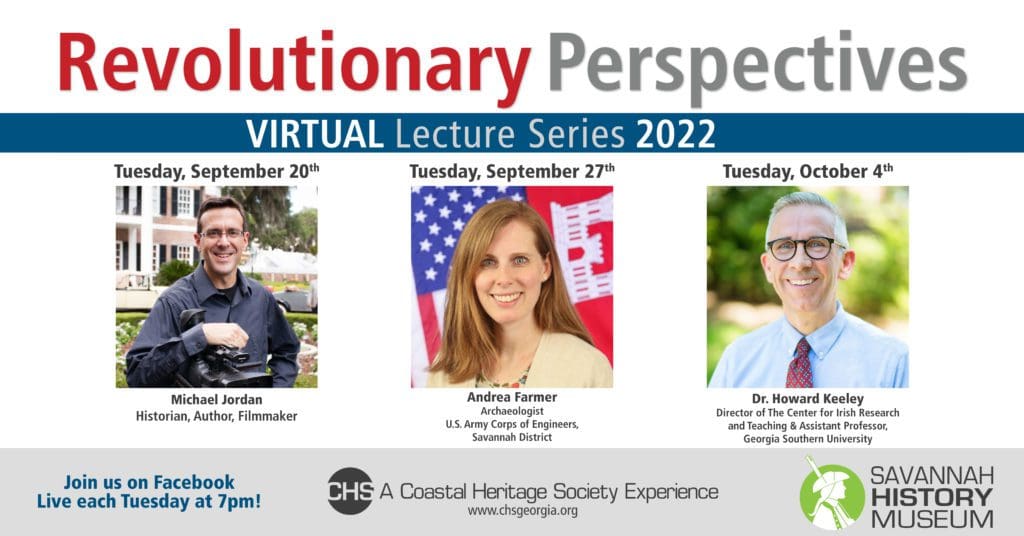 The first lecture, on Sept. 20th, will be presented by Michael Jordan, historian, author, and filmmaker. Jordan's lecture, "Savannah's Squares: Historic by Design," will discuss the jewels in Savannah's crown: her beautiful historic squares. Michael is the co-author of Savannah Square by Square, a popular coffee table book recently republished by Coastal Heritage Society. Michael will reveal the stories behind Savannah's squares – their namesakes, interesting stories associated with several of the squares, and startling reminders of just how close we came to losing these unique urban treasures.
The second lecture, on Sept. 27th, will be presented by Andrea Farmer, Archaeologist with the U.S. Army Corps of Engineers, Savannah District. Her lecture titled, "Conservation of Revolutionary War Artifacts from the Cannon Cluster Site" will discuss the cannons and other artifacts discovered dating to the American Revolution in the Savannah River as part of the Savannah Harbor Expansion Project. Located opposite Old Fort Jackson, the Cannon Cluster Site (9CH1552) is possibly associated with the HMS Venus and/or HMS Savannah, armed naval troop transports scuttled by the British to keep a French fleet from attacking the city of Savannah in September 1779. A series of geophysical surveys, diver investigations, and recovery efforts were performed in 2021 to better identify the site and retrieve what remained including 19 cannons, some cannon fragments, small munitions, and a bell fragment. Efforts to conserve the cannon and other artifacts are underway to preserve these items, potentially link them to a specific vessel, and prepare them for exhibit so that the public can view them firsthand.
Our final lecture, on Oct. 4th, will be presented by Dr. Howard Keeley, Director of the Center for Irish Research and Teaching at Georgia Southern University. His lecture titled, "Public Health in Peril: A Campaigning Irish Doctor in Nineteenth-Century Savannah," will focus on Irish immigrant Richard Joseph Nunn, a member of the first graduating class of the Savannah Medical College (1854). Having experienced large-scale outbreaks of yellow fever & typhoid fever in Savannah neighborhoods, he became a widely recognized campaigner for public-health reform. Always, he insisted that improvements must occur without regard to class, race, or creed. Nunn's story needs t