Karen Mills, Comedian – Tybee Post Theater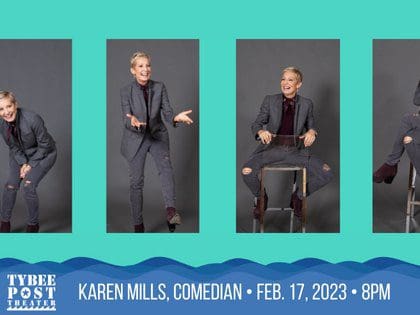 Karen Mills has been a nationally touring comedian for over twenty-five years. She can be heard daily on SiriusXM comedy channels and clips from her comedy special "Pink Pants" have gotten over 21 million views. Karen appeared on Season 12 of America's Got Talent and has had numerous appearances on The Grand Ole Opry. She is currently touring theaters across the country with Leanne Morgan. Karen and Leanne have worked together since 2004 when they first met doing the Southern Fried Chicks comedy tour.
Karen has a straight-forward approach to the realities of life. Her smart, funny, keen observations will keep you laughing at yourself as you relate to her experiences. Even Ovarian cancer couldn't stop her from turning her pain into punchlines. Diagnosed in 2013 after a routine checkup, Karen was determined to take on the disease with hope and humor and in 2016 she was chosen to present her talk, "Cancer is a Laughing Matter" at TEDxChattanooga.
VIP BALCONY TABLE
– 3 seats per VIP table
– Complimentary bottle of Champagne
– Tableside service for concessions/drinks
– Meet the talent (subject to availability)
– (Not handicap accessible)