I Am A Town (documentary) – Tybee Post Theater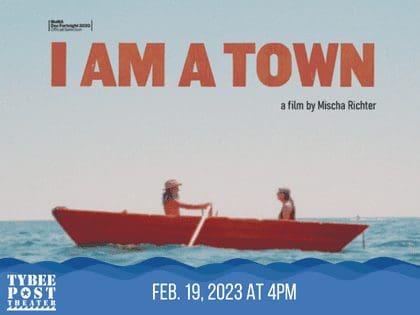 Runtime: 83mins
Q&A with director, Mischa Richter, following the film.
At the end of a remote peninsula, protected by a school of great white sharks, lies the
remarkably diverse and free-spirited community of Provincetown, which has been clinging to a distinctly American – and yet increasingly rare – way of life. In his immersive documentary debut, Mischa Richter, whose artist family has been living in Provincetown for nearly a century, explores his home through shared moments and conversations with locals, pilgrims, outcasts, fishermen, drag queens and spirit guides in an exploration of what freedom and community mean in America today.
Director/Producer: Mischa Richter
Mischa Richter was born in Windsor, England in 1971, but spent most of his childhood in
Provincetown, MA. He studied art in London and started a career as an editorial photographer working for publications such as Vogue, Esquire, The New York Times Magazine, i-D, The Face, The Observer Magazine, Wallpaper and GQ. He is the founder and director of a non-profit publishing company called Land's End Press, which published his first book.